If you are a fan of spearfishing, foraging, fishing, and ocean adventures in general, you probably stumbled already to this awesome YouTube channel.
Rokkit Kit is a YouTube channel that shows his ocean adventures in his video uploads. Just like YBS Youngbloods and Cavy Fishing, Rokkit Kit's videos are an incredible watch for ocean adventure enthusiasts!
In this article, you will know a lot more about Rokkit Kit. From Rokkit Kit's location, real name, wife, and a lot more!
Note: This article is being updated regularly. Some info may not be available at the moment.
Who is Rokkit Kit?
There are a lot of people who wonder what is the real name of Rokkit Kit. On the other hand, some say that his real name is indeed "Rokkit Kit" as the YouTube channel was named after him.
What is the real name of Rokkit Kit?
The real name of Rokkit Kit is Rodney Pacitti.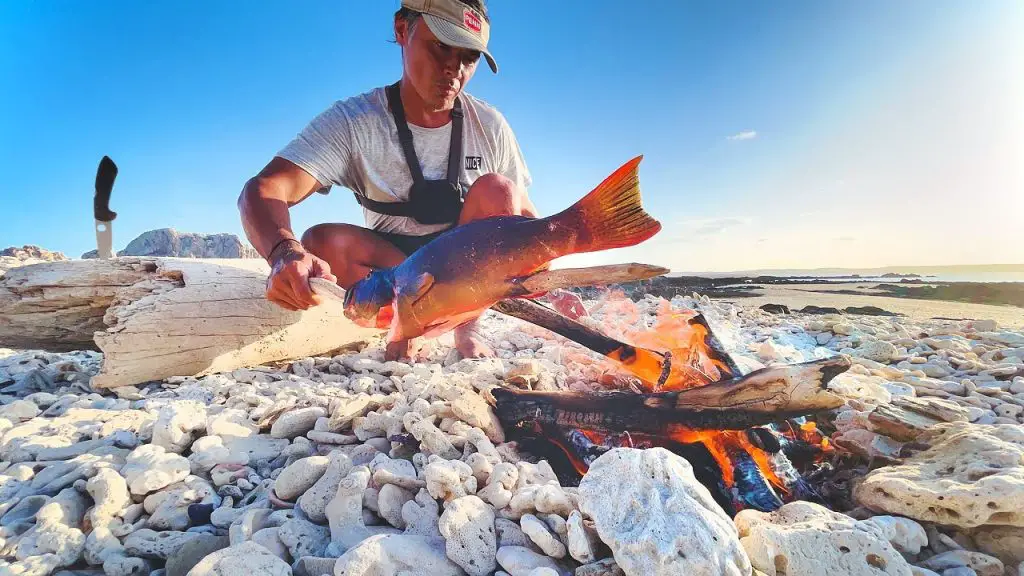 Rodney Pacitti or Rokkit Kit is an Australian national. Rokkit Kit grew up in Gold Coast, Queensland, Australia. He grew up fishing, snorkeling, camping and doing other outdoor adventures, specially in the ocean.
Rokkit Kit said in his YouTube bio;
I grew up fishing, Spearfishing and Camping keen on anything to do with the ocean and the outdoors. I like any kind of fishing but get a bit of a kick out of adventuring from small crafts like kayaks and Inflatables as it adds a physical element that makes the catch more rewarding and the experience of a big fish humbling… Catching fish in a sustainable way and sitting around the table to a feast is what it's about.
As for the age of Rokkit Kit, he's probably between the age of 30 to 40. Rokkit Kit is a married family man with at least one child as shown in his YouTube videos. The name of Rokkit Kit's wife is Twahn Pacitti.
Rokkit Kit's Most Viral Video
The most viewed video of Rokkit Kit in his YouTube channel is from 3 years ago entitled "Living From The Ocean…Solo Beach Camping On An Uninhabited island – Day 2".
This video is jampacked with thrill and adventure! It's like watching a survival challenge on an abandoned island, pretty much the same with Cavy Fishing or Survival Beast. No wonder adventure enthusiasts love this video!
Rokkit Kit described this video as;
Day two on the island and the weather is slowly deteriorating. With a cyclone developing up north and the rain and wind coming in waves all day. Still got a chance to get out on the water and managed a great fish on the spear to get me by so still a great day camping!
Rokkit Kit Location
Rokkit Kit or Rodney Pacitti lives in Golden Coast, Queensland Australia.
Most of Rokkit Kit's episodes if not all are filmed in Queensland Australia. Queensland has both the Pacific Ocean and Coral Sea in its easthern coastline. No wonder why the sea in Rokkit Kit's videos are full of life and colors!
One can only dream to live in such a beautiful location.
Rokkit Kit Gears and Equipment
There are a few gears and equipment that Rokkit Kit frequently uses in his YouTube videos. In one of Rokkit Kit's video uploads, he showed all his gears inside his backpack. Check the list below and click the corresponding link to view the current prices for each gears and equipment.
Rokkit Kit Camping Kit
Rokkit Kit Spearfishing / Diving Gear
Rokkit Kit Camera / Tech Gear
Rokkit Kit Fishing Gear
Rokkit Kit Knife Gear
Rokkit Kit Assorted Gear
A quick note about the action camera of Rokkit Kit. GoPro is very popular amongst outdoor YouTubers, in fact even Brodie Moss of YBS Youngbloods is also using a GoPro.
Rokkit Kit YouTube Stats and Earnings
Here are the YouTube statistics of Rokkit Kit courtesy of SocialBlade.
Subscribers: Over 400K
Video Views: Over 50M
Estimated Monthly Earnings from YouTube: Around 3,000 USD per month
Support and Follow Rokkit Kit Online
If you enjoy the work ofRodney Pacitti of Rokkit Kit, you might want to consider following him on his social media accounts. You might as well check all the latest episodes on Rokkit Kit YouTube channel.
Rokkit Kit deserves more support!
Rokkit Kit Facebook
Rokkit Kit Instagram
Rokkit Kit Patreon
Rokkit Kit Website
Rokkit Kit YouTube