One of the most famous adventurers on YouTube is the Field Days channel.
People are watching its videos because it is full of thrill and excitement. No wonder the Field Days YouTube channel gets hundreds of thousands of views per month if not millions!
The main premise or theme of Field Days' videos is survival, catching food and building shelter in an isolated locations mostly on islands. Field Days catches his food through different methods of hunting like bow fishing and through the use of a fishing rod and reel.
Field Days has a similar vibe with Cavy Fishing or Survival Beast.
In this article you will know more about Field Days YouTube channel.
The Real Name of Field Days
If you don't know already know the real name of Field Days, here it is.
The real name of Field Days of YouTube is Matt Field.
Matt Field is an Australian national that loves the outdoors and adventures. He is documenting his trips on his YouTube channel named "Field Days" which he created on November 10, 2019. As for the age of Matt Field, he is between 30 to 35 years old.
Just like Brodie Moss of YBS Youngbloods, Matt Field or Field Days is also living in Western Australia.
Field Days' Most Viewed YouTube Video
The most viewed video of Field Days in YouTube that garnered over 22 million views was uploaded on September of 2020. The title of the viral video is "3 DAYS solo survival (NO FOOD, NO WATER, NO SHELTER) on an island with only a POCKET KNIFE.."
Matt Field described this video as;
In this video, I attempt a 3 day solo survival challenge with only a pocket knife.. finding water was extremely hard on this island, the lack of water over the 3 days gave me a headache like I've never had before! definitely, the hardest challenge I've done yet
This particular video of Field Days is a real deal! Surviving on an isolated coast with no food and water plus some creepy paranormal occurrence during the night! It's no surprise this video got millions of views!
Field Days' Girlfriend
Matt Field or Field Days' girlfriend is Maky, a gorgeous Czech lady.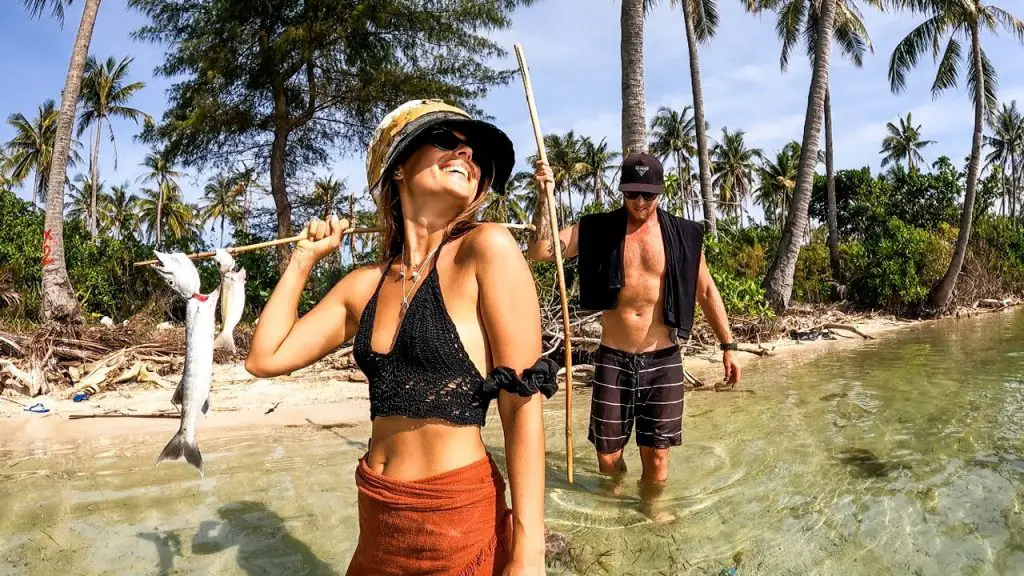 Maky is also on YouTube through Maky and Matt channel. Maky pen down this decription in this channel.
I am Maky – a Czech chick, living from the ocean in a 78 series Troopy, traveling & capturing the world with my Aussie boyfriend Field Days. Follow our adventures whilst we are living on the road, catching our own food, and exploring Australia. We met in Bali 5 years ago but recently, we have moved to Australia, bought 78 series Troopy and made it our home on wheels! Let me show you more from the personal side of our lives, inspire you to live a simple, fulfilled life & give you some travel tips.
It does shows in the videos of Field Days how beautiful Maky is and how much she and Matt love each other. It's just so nice to see them both in Field Days' episodes!
Field Days' Legendary Knife
If you are a fan of Field Days' YouTube channel I bet you already notice how beautiful the knife he is using is. It reminds of the favorite knife of Silvester Stallone in his movie "Rambo" but different in looks and shape.
Apparently, the knife has no brand inscription on it nor has any logo. Therefore, it is hard to know what knife it actually is. Judging by this fact, it maybe that this particular knife of Field Days is a generic "not branded" knife he got from a local store.
Where to buy Field Days' Knife?
Although it is not known the exact brand and name of Field Days' Knife, we found a similar looking knife that is available on Amazon.
The style of Field Days' knife is called Kukri. The best and most beautiful Kukri Knife you can find on Amazon is made from premium Damascus steel.
Field Days YouTube Stats and Earnings
According to SocialBlade, here are the statistics and estimated earnings of Field Days YouTube channel.
Subscribers: Over 1.15 Million
Video Views: Over 107 Million
The average monthly earnings of Field Days off of YouTube ads is around 15K USD.
Support Matt Field and the Field Days YouTube Channel
Matt Field is creating so much entertainment for people through his thrilling videos on Field Days YouTube channel. He deserves more support and encouragement! Follow him through his social media accounts below.
Field Days Facebook
Field Days Instagram
See all the latest episodes of Field Days on YouTube and don't forget to buy Matt Field's merch on Field Days' website!